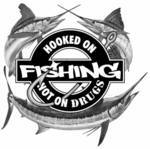 Hooked on Fishing – Not on Drugs (HOF-NOD) is a national program initiated by the Future Fisherman of America. Fishing is an enduring tradition enjoyed by many, bringing immeasurable values to our way of life. To those of us who learned to fish as a child, angling has been a part of our lives for as long as we can remember. Whether fishing is learned as a child or adult, it tends to be a lifelong pursuit shared with people who are important to us, giving us lasting memories of happy times with family and friends.
The late Dr. Jim Wright started the local effort of this program in 1990. He held Casting Tournaments for youth and gave prizes to the winners. Dr. Wright provided the promotion and prizes without any financial help. Upon realizing the impact a program like this could have on our young people, Mr. Leslie Creech began an expanded citywide program that is now supported by the Virginia Beach Billfish Club, Hooked on Fishing-Not on Drugs, Inc.
During the early winter of 1991, Leslie Creech, with assistance from Dr. Wright, put in place the expanded program. For eight years the program consisted of two separate outings each year. In the past, eight to ten elementary schools were invited to participate in these events. Students from the third, fourth, and fifth grades in each of the participating schools were asked to write an essay on "Why Drugs Are Not For Me." Teachers then selected two essay winners from the third and fourth grades and four winners from the fifth grade. These winners were awarded an inshore fishing trip on various sport fishing boats donated by private boat owners. The participants returned from their fishing trip to an awards party and cookout at Fisherman's Wharf Marina. Youth with the biggest caught fish were awarded an offshore fishing trip on two private vessels. All program costs were subsidized by donations from local Virginia Beach businesses.
In 1999, the Virginia Beach Billfish Foundation joined efforts with the Virginia Beach Sheriff's Department and Virginia Beach Police Department to offer this program in all public and private elementary and middle schools in Virginia Beach through the DARE program. The DARE program promotes appropriate choices and preventive strategies concerning drugs and alcohol, which reflects the goals of the Hooked on Fishing-Not on Drugs program. Today, selected graduates of the DARE program are awarded a spot on the spring fishing trip. In the morning of the Kids Fishing Day, they learn the skills necessary to fish safely; they learn to identify the different species of fish; and they learn about conservation. Following the morning's educational sessions, they boarded the Bobbi Lee, Super Sport and Sea Sport – head boats sponsored by Fred Feller of Rudee Inlet Charters – to fish in the Atlantic Ocean some 13 miles out. Upon their arrival to the dock, the young anglers are treated to a supper Cookout and Awards at the Virginia Beach Fishing Center. All participants receive a commemorative t-shirt and a saltwater fishing rod and reel and a tackle box. Trophies are awarded for each boat catching the Heaviest Fish, Most Released Points, Most Fish Caught etc., as well as second and third place trophies.
In 2000, this program reached another level. VBBF HOF-NOD, Inc. was formed and recognized by the Internal Revenue Service as a non-profit program and awarded a 501c3 status.
Today VBBC Hooked on Fishing-Not on Drugs program relies on the generosity of local businesses, Service Clubs and The Annual Oyster Roast to cover the operating costs. In 2009, the first Annual Oyster Roast replaced the Tux and Tails Gala as a not-to-be-missed event to raise funds for this successful program.
We at VBBFC HOF-NOD Inc. are very proud and dedicated to its continuing success and growth. Our efforts help the youth have a safe and enjoyable fishing experience that fosters conservation ethics and a great alternative to drug abuse.
We hope you have found this brief history informative. If you have any questions, suggestions or would like to become involved, please contact a committee member at the following address:
VBBFC HOF-NOD
P.O. Box 3826
Virginia Beach 23454
Thank you to our HOF-NOD Sponsors!