The VBBFC conducts a Membership Meeting each spring with noted speakers on topics which include: fishing techniques, conservation, political interests or open forums on current issues such as species stock assessments, fisheries management and local actions effecting pelagic sportfishing. The membership meetings are open to prospective members and on occasion are open to all when newsworthy topics are to be presented by guest speakers. In addition to the membership meetings the VBBFC has several dock parties during the fishing season which are open to members, their guests and prospective members. Members also attend an annual Oyster Roast and a Awards Banquet where Annual Fishing Frenzy Awards are presented.
The VBBFC conducts an annual season long fishing tournament for the members called the Fishing Frenzy. The tournament promotes the safe release of all billfish, ethical fishing practices and the development of junior anglers. Awards are presented at the annual Awards Banquet.
---
VBBFC is very active in supporting local youth drug and alcohol abuse prevention. The foundation has instituted the Hooked on Fishing-Not on Drugs program (HOF-NOD) and supports the Virginia Beach Sheriff's Office efforts to provide our youth with alternatives to drug involvement. The foundation raises funds for the HOF-NOD program by conducting the annual Oyster Roast and other social events . Tickets to the Oyster Roast are sold in the local community and funds are raised through ticket sales, raffles and silent auctions during the event.
If you have an interest in becoming a member of VBBFC or would like more information, please visit our Membership Info Request & Registration Link.
*** New prorated rate for the remainder of 2019 as of August 15th.  Click here for details.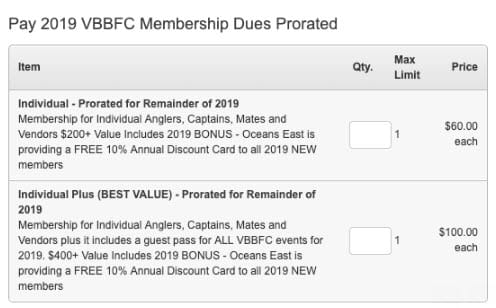 ---