2021 Club Update
Thankfully, 2020 is now behind us and we are well into the first quarter of 2021. The first months of 2021 have still been challenging but seem to be getting somewhat better. Covid-19 positivity rates are dropping and more and more people are being vaccinated. Our government restrictions are starting to open up and be more relaxed, however, we are not out of the woods yet. There is still a long way to go before things return to "normal."
Club Status
The Board of Directors of VBBFC have met and decided to keep everything in a holding pattern at this point. There are funds available to continue the general operations of the Club without soliciting 2021 membership dues at this time. Once restrictions are lifted to allow social gatherings to accommodate our full membership, we will re-evaluate the year and determine how to proceed. It is our hope that we can still have a delayed Spring Membership Meeting and some dock parties as we have in the past.
Fishing Frenzy 2021
As you know, we had to cancel the Fishing Frenzy for 2020, but would like to have it open again for 2021. In order to participate in Fishing Frenzy you must be an active paid member. We are still determining the best way to handle that, as we don't want to assess membership dues until we can provide some value through gatherings and activities. The award trophies for Fishing Frenzy are a large budget expense, therefore we need adequate income from dues to go forward. Stay tuned for more information as we work through this situation.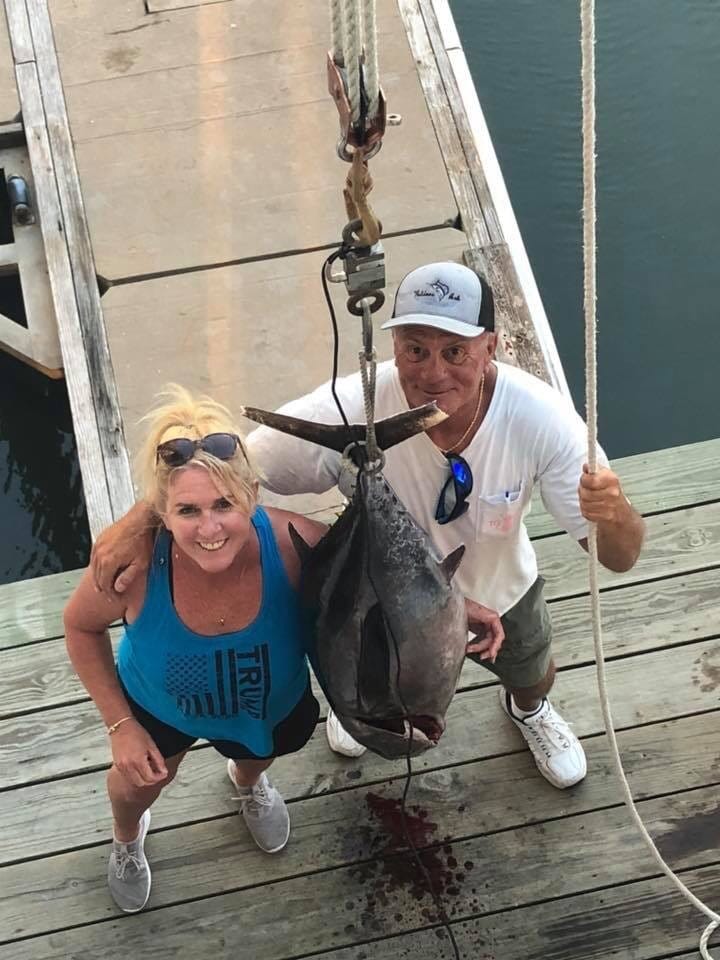 Wendy Brockenbrough
Top Lady Angler
Board of Directors
VBBFC has openings on our Board of Directors. Rick Muskovac will serve as President for 2021 with Mike Harrison as Vice President and Bill Susewind continuing as Treasurer. We are seeking new Board members as well as someone to fill the position of Secretary. Please give this some thought and determine if you are willing and able to assist.
Rick Muskovac, President
Tell Us What You Want?
We welcome new ideas from our membership!
What do you want to see?
What do you want to do?
What are your opinions, likes/dislikes of this organization? 
Many of the current members on the board have been seated for quite a few years and we feel some changes are needed. Please let us know how you can help. Feel free to reach out to a current board member to share your opinions.
April Board Meeting
The Board will be meeting again in April and will hopefully have more solid information available at that time. Thank you for your patience and understanding in this crazy time. We look forward to the day when all this is behind us and we can go fishing and have parties once again. Stay safe and healthy!
Best wishes for a safe and happy Spring.
Judy Wilder
VBBFC Marketing & Membership
saltydogwilder@cox.net
757-477-7894
The purpose of the Virginia Beach Bluewater Fishing Club is to promote offshore sportfishing and the conservation of pelagic fish species. The VBBFC promotes safety, sportsmanship, education, fellowship and entertainment of its members and interested members of our community. We conduct general meetings with topics that include: fishing techniques, conservation, political interests and open forums on current issues such as species stock assessments, fisheries management and local actions effecting pelagic sportfishing. Of course our top notch member Captains, Mates and Anglers are always ready to swap stories, provide demonstrations, and share fishing advice.  The Annual Membership Meetings are open to prospective members and on occasion are open to all when important topics are to be presented by guest speakers.
In addition to the membership meetings the VBBFC has several dock parties during the fishing season which are open to members and prospective members. Members and guests also attend an Annual Oyster Roast, a Christmas Party, featured fund-raising events like the Inlet Escape Cruise, and an Annual Awards Banquet.
The VBBFC conducts an annual season long fishing tournament for the members called the Fishing Frenzy. The tournament promotes the safe release of all billfish, ethical fishing practices and the development of junior anglers. Awards are presented at the annual awards banquet.
VBBFC is very active in supporting local youth drug and alcohol abuse prevention. The foundation has instituted the Hooked on Fishing-Not on Drugs program (HOF-NOD) and supports the D.A.R.E efforts to provide our youth with alternatives to drug involvement. The foundation raises funds for the HOF-NOD program by conducting the Annual Oyster Roast. Tickets to the Oyster Roast are sold in the local community and funds are raised through ticket sales, raffles and silent auctions during this not-to-be-missed event.
If you are interested in becoming a member of VBBFC or would like more information, visit our Membership Links!
Want to join the VBBFC Mailing List to get announcements and invitations to our events during the year? 
Join Mailing List
---